Mexico Series 2018
Mexico Series 2018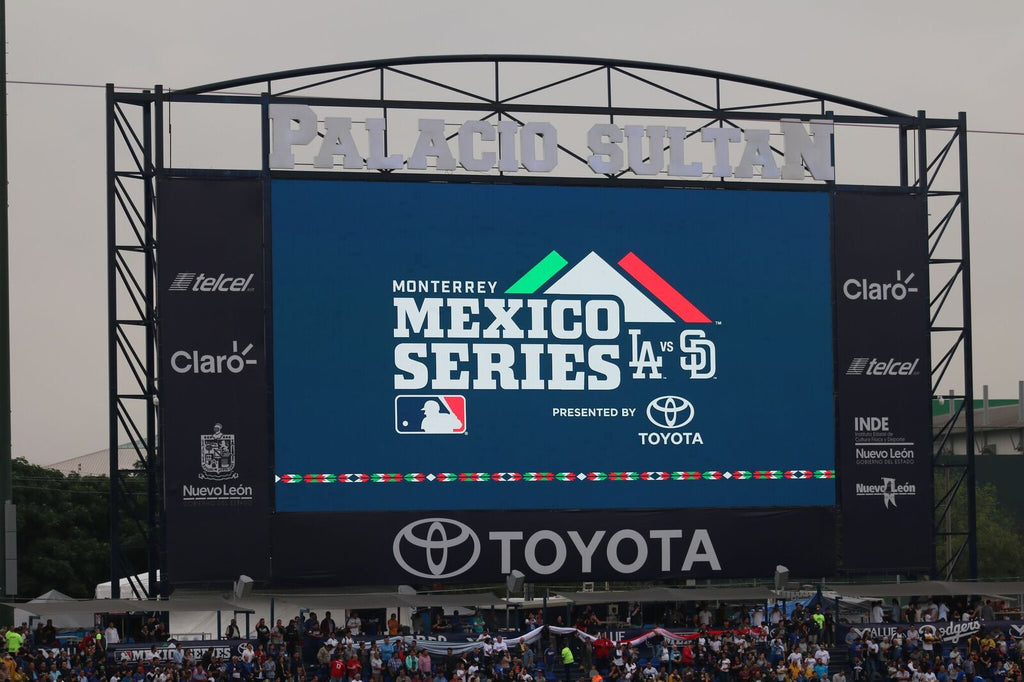 Monterrey, Mexico was definitely one of the best experiences that I have ever had. Not only was I able to travel and explore a new city and a new country but I also witnessed history in major-league baseball. But before I get into all that, I want to talk about my travels there and back and everything in between because literally every second of this trip is worth talking about.

Our day started on Wednesday going into Thursday where we went to Los Angeles international Airport and checked in about 10 PM and our flight was leaving at 12 AM. Once we are checked in and all my baggage was good to go we hung out around the airport where we saw plenty of dodger fans and even made new friends all for the same reason. To travel to a new country and they have an experience and not many get to have and watch our boys in blue play. We had Smalltalk with a bunch of people actually and it's crazy to think that our Dodger family is so big. Some of them have never even heard of Pantone  and some knew plenty of us. Either way this is what Pantone patti is all about, making new friends and knowing that no matter where you go even across the globe you'll have family all united just because of a baseball team.
Our first flight was from Los Angeles to Mexico City where we had a three hour layover and from Mexico City we went to Monterrey Mexico. Stepping onto the walkway that connects the airport to the airplane you already immediately felt the humidity. And if you don't like humidity then Monterrey Mexico is definitely not for you but we were able to deal with it and it was hot and in the first day there wasn't any rain but the next day that's on there was. Our first day there was Thursday and that whole day we had arranged to go pick up tickets for our Pantone family that had traveled with us and we also went to go check out our pregame location a few blocks down from the stadium. Everything went smooth sailing as far as checking out our pregame location which by the way was a huge success but will get more into that later all her tickets were in our possession and it was time to package and get everything ready for the next three days.

Friday came along and this was the first day of the three-game series. We met everyone who had purchased tickets through us at our pregame location and it was really nice meeting some new faces and seeing some old friends. On our way to the game it was really packed, mainly because not only was the baseball game going on but there was a huge play off game going on and one today to for futbol, Perez us Americans like to call it soccer. Either way with huge lines we were able to finally make it into the stadium about 35 minutes till gametime. When we got to our seats man was it breathtaking I have never been so close to the field before it was a small stadium in my opinion but the fact that it will look like a smaller stadium and it felt like a smaller stadium I felt more into the game. Fernando Valenzuela pitched out the first pitch and even though it was a padres home game it definitely felt like we were had blue heaven on earth. There was video montages of dodgers history and present players end it was all just amazing.


As the game went on I noticed a lot of things that were different between ball parks in Mexico and ball parks in the United States one major thing that I noticed was beer. Did you guys know that in Mexico you don't even have to get up to go get a beer from the concession stand? Well if you didn't know now you know it was crazy to me that every single road had about eight people working in orange vest and they were beer renters if you wanted a beer all you had to do is raise your cup or raise your hand and tell the worker how much you wanted and they would get it for you right then and there! they had buckets of beer right on the isles ready to serve. Let me tell you a lot of people took advantage of that. Not only did I noticed the beer but I noticed the food and let me tell you I think I tried every single thing on the menu that there wasn't that stadium except for the hotdogs which I'm OK with. There was tacos burritos chips that you could add lemon and chili on it and there was also "esquites" which is basically corn in a cup topped with mayo, cheese, butter and chili powder.

Friday's game was history in the making, it wasn't until the fifth inning that I realize that the Dodgers were having a no-hitter but more importantly Walker Buehler was having a no hitter. No I don't know about you but I am very superstitious so I said nothing about the no-hitter and when they took Bueller out I was very confused but I realized why the decision was made and eventually it did pay off. But the combination of four pictures the Dodgers completed their first combined no-hitter in Dodgers history. The four pitchers that made it happen were Walker Buehler, Tony Cingrani, Yimi Garcia, and Adam Libreatore. The most unlikely combination made history! It wasn't until the last two outs that the whole group went down right to the very front row and we said, that on the last out we were going to celebrate big! Well we did, in the final pitch of the final out, everyone was on their feet, witnessing history, the stadium was silent as The pitched approach the batter and a swing and a miss made the crowd go wild. The Dodgers players ran out of the dugout fireworks erupted and we invaded the top of the dugout. Myself and Conrad, a team. member of our group were the first ones on top of that dugout celebrating waving our Pantone flag! As the players headed back to the dugout we were greeted by a hello and wave from our favorite red-head Justin Turner, our stud Clayton Kershaw and Dodgers Photographer even got a few shots in of us waving a Pantone flag and celebrating on top of the dugout. To be a part of something forever embedded in Dodgers history is something I can't get over. That day I realized how Pantone as a group has allowed me to experience things I never could on my own. Nonetheless even in a different country!


Saturday was a tough loss as the Dodgers fell short of winning will meet Saturday memorable was the fact that we were able to get in our Pantone flag and make her presence known. At first we were unsure if we were going to be able to bring our flag into the stadium but without any issue we took it out in the six inning is when we let everyone know that we were there we march down the isles and proudly expanded our flag. Of course the Padres fans were not that happy but we didn't care we let the team and we let the friends know that it doesn't matter how far the boys in blue travel to play we will be there as well.


 Sunday felt like an off day to us because we didn't end up going to the game we wanted to be tourist for the day and explore Monterey Mexico. We made it to El Centro  where there was a fan fest being held for anyone and everyone and it was basically for the whole city to enjoy the festivities.  We were there for about an hour and a half until we made our way to the Riverwalk.  It is a man-made river where a boat can take you sightseeing of that whole area. It was a truly beautiful and relaxing boat ride, that kind of had a Disneyland jungle cruise vibe! 
We then explored the park in El Centro that had a Central Park for tourists and locals. It was HUGE and also a nice place to have a picnic and spend the day there. They even had these attractions that had kayaking, ziplinging and an attraction to feed birds. 
Overall, Monterrey, Mexico was an experience I'll never forget. It was a true blessing to witness history, explore a new city, a new country and see how Mexican Baseball fans still have a huge fan base even though their team is in the United States. Pantone294 has allowed me to experience all this in such a short amount of time and for that I'm forever grateful.