Fan Feature Friday: Ricky Garcia
Fan Feature Friday: Ricky Garcia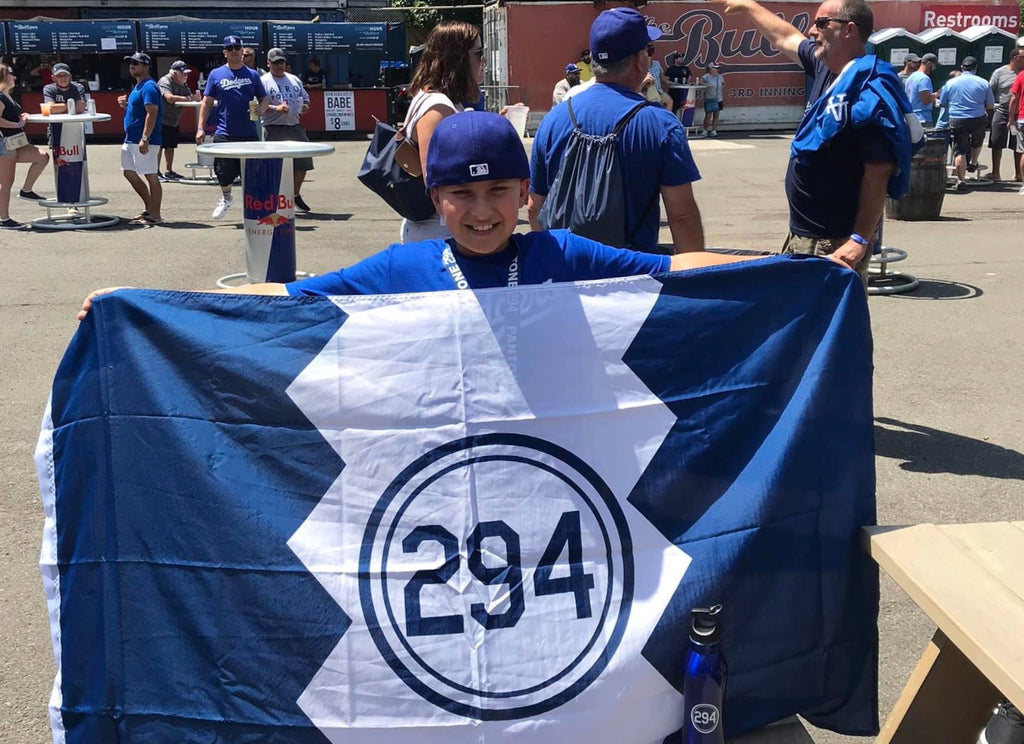 Meet Ricky Garcia, a 12 year old lifelong Dodger Fan. He and his family had the opportunity to join Pantone 294 in Washington DC while in town for a Young Leaders Conference. He maintains his busy school schedule, baseball and being the best big brother to his baby brother with passion and ease.  

How long have you been playing baseball and what position do you play?
Since I was 5 years old. Catcher, pitcher, short stop and 2nd base.

What's your favorite part about playing baseball?
I love everything about it.

When you aren't playing baseball what else do you like to do?
Play MLB The Show on PS4

How you became a Dodger fan?
I was born a Dodger Fan. I come from a family of die hard Dodger Fans.

Favorite Memory as a Dodger fan?
Going to Spring Training and getting Kershaw's autograph.

Who is your favorite Dodger player?
Clayton Kershaw

Favorite memory during the Washington DC game?
Seeing Kershaw pitch.

What was your favorite part about the Junior National Young Leaders Conference?
Meeting new people from different states.
What is you favorite subject in school?
Math
If you could have dinner with any Dodgers player?
Kershaw

What would you ask him?
How to hide his offspeed, like a fastball

What is you favorite thing about Dodger Stadium?
Right Field pavilion, all you can eat and you can catch dingers!

If you could play for the Dodgers what position would you play and why?
Starting pitcher, so I can control the game.

What would your walk up song be?
Rage Against the Machine- Bulls on Parade

If you could shadow a current Dodger for the day, who would it be and why?
Kershaw, so I can see how he prepares

How many stadiums have you been to?
5

What is your favorite baseball movie?
The Sandlot

Ricky and his dad Rick at a Dodger game


Following questions by Ricky's mom Dyan

What has it been like to watch Ricky shine on and off the field?
He makes us so proud. I always say school comes first but he has never had to choose between the 2 because he does so well in both. He's got a very full schedule but he never complains, he does what he's got to do and does it well.

How did you guys find Pantone 294 and the opportunity to catch a game with us in DC?
I've followed Pantone on social media and would always say, we need to save up and go with them one of these days. When Ricky was nominated to go to DC, I was afraid to send him alone, so we made it a family trip and decided we would catch a Dodger game while we were there since they were playing the same weekend. When I found out Pantone was going to be there it was a no brainer to get tickets with them. It ended up being the highlight of our trip.

What was the highlight of the Pantone 294 experience?
Our favorite part was the walk to the stadium chanting Let's GO DODGERS! A sea of blue invading the stadium. All of the Nationals fans were in shock, people were staring. It was awesome.

At what age did Ricky start showing an interest in baseball?
I can't remember, I think he's always been interested. His Dad played and he would go to his games since he was little and then we would take him to games and he started playing around 5 years old.

How old was he when he attended his first Dodger game?
He was about 2

Besides baseball what other things do you like doing as a family?
We love going to concerts.

Planning on attending any 2020 season games with Pantone 294?
We are hoping to go to Atlanta with Pantone in 2020

What would you say to families that want to attend a game with Pantone 294?
Do it!. It's an experience you'll never forget.and want to do again as soon as it is over. We made so many friends that day that we can't wait to see again. Lots of fun!
Mother Dyan, Ricky, Step-father CJ in DC with Pantone 294.