Fan Feature Friday: Aaron Brown
Fan Feature Friday: Aaron Brown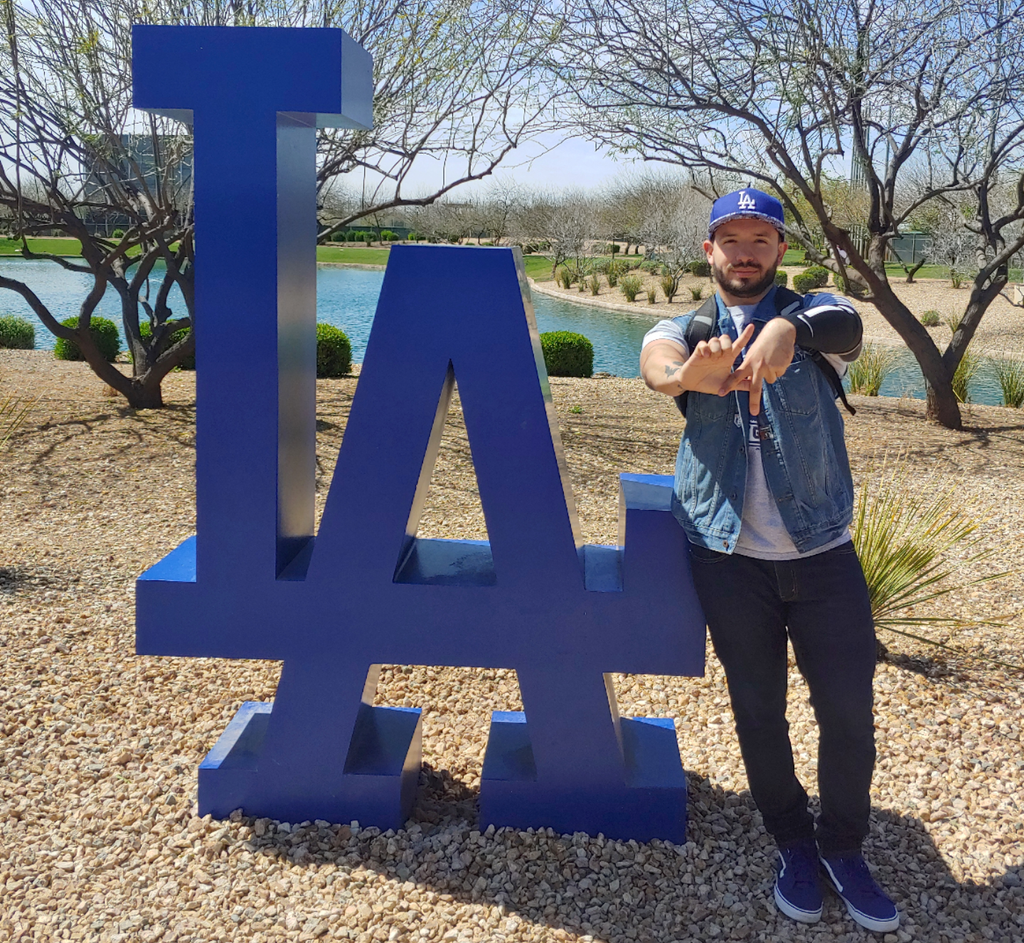 This weeks fan feature is Aaron Brown, his love for the Dodgers and sports radiates throughout his Instagram page. Get to know him as he talks about how he became a Dodger fan and his experience with Pantone 294 in Boston and Philly! 
Is there anything Pantone fans should know about you?
I'm an Inland Empire Dodgers fan. #OntarioCA
How you became a Dodger fan?
I'm actually a very unique case. My aunt taught me about baseball and she was in love with Derek Jeter. So originally I gravitated to the Yankees and became a fan. Then over time being a Yankees fan in California was not the best choice. I could never watch the games on television and rarely could I see then play in California.
Once I started living the Dodger lifestyle I fell in love with it. I wish I could have been attending games since I was a baby, but it's never too late to start. I love the Dodgers, I've been going to Spring Training for the last four years and do not plan to break that streak, I've been to the Red Sox Vs. Dodgers World Series, thanks to Pantone 294 I've 
traveled
 across the nation for this team and I'll beat my previous record of attended games in a season this season.
First memory as a Dodger fan?
Going to my very first Dodgers game with friends from school sitting down the third base side - field level and seeing Gange come out of the bullpen.
Favorite Memory as a Dodger fan?
It was 2017, Corey Seager Bobblehead Night, Brandon McCarthy was pitching and the game was going very slow...the BAM BAM BAM.. Puig goes yard, Belli goes yard and Turner went yard. Back to back to back HRs for the Dodgers and the crowd woke up very fast.
How did you first hear about Pantone 294?
I came across Pantone 294 through social media before the 2017 Spring Training season. My first interaction was at the Inaugural Charity Softball Tournament in West Covina, CA at the Big League Dreams.
What was your favorite memory about the Boston and Philly trip? 
From Boston, the march to Fenway Park hands down. The city and the Boston fans were just in shock on how many Dodger fans where in town. For the most part I saw Boston fans pulling out their phones and sharing with the world.
From Philly, the bar we went to after the baseball game. Taking over a local bar and 
having
 a Dodger fan plug in their phone to the sound system while playing all West Coast music was awesome.
How you describe P294 to someone that doesn't know about it?
"You need to go on a trip with them. They do some great things with Dodger fans from Yacht parties to pregame socials. They make it very easy to plan a trip to an out of town Dodgers game. This a must for all Dodger fans."
If you could have dinner with any Dodgers player, past or present, who would it be?
Jackie Robinson
What would you ask him? 
What was it like going through your journey and having so many people be against what was going on? How did you keep your head on your shoulders and move forward?
If you could play for the Dodgers what position would you play and why?
Left Field. I've always been a natural outfielder since I started playing baseball. I also like to think I have a pretty good arm so I would love to throw players out at the plate. 
What would your walk up song be?
Lose Control - Missy Elliot ft. Ciara
If you could shadow a current Dodger for the day, who would it be and why? 
Justin Turner. I feel like it would be awesome following him around to see the community work he does, the leadership he has with the team and what his mindset is on the diamond.
Besides dodger baseball what are your other hobbies?
The gym, Pittsburgh Steelers football, San Antonio Spurs basketball, traveling, cooking, shopping, PS4 and going out to a bar/nightclub to hit the dance floor.
How many stadiums have you been to?
If you count old Yankee Stadium and the old Shea Stadium, 11.
Which has been you fave so far?
Old Yankee Stadium for the simple fact that it was a part of baseball history and not many people can say they ever went to that stadium.
What would you say to someone thinking about a Pantone trip?
TRY IT! These trips are awesome experiences. When we take over 
different
 cities, we literally take over every city. In Seattle, I went into the Pop Culture Museum and we ran into Dodger fans from Los Angeles. In Philadelphia, we ran into Dodger fans running up the Rocky steps at the same time we did. The best thing about it is that you make friends with these people and start building relationships. So by the time the next trip comes along, you will be seeing plenty of familiar faces.
Who do you usually go on Pantone trips with?
My good friend Edgar who I use to work with at Buffalo Wild Wings. He basically told me " I don't care where we go and you can plan everything that we do, I just want to travel." So he has been a great person to travel with. #MijoIsTheBest
Now that the 2020 Pantone schedule is out, are there any Pantone trips you are going to try to attend next season?
It looks like Miami is going to be the trip for me next season. I hope I  can throw in the Colorado Rockies game as well.
What is your favorite baseball movie?
Fever Pitch -___-  & Eddie's Million Dollar Cook Off
This or that 
-Pineapple on pizza or not Not Pineapple on pizza
-Dogs or Cats Dogs
-Beaches or Mountains Mountains
-Night Games or Day Games Night games 
-Twitter or Instagram Instagram
-iPhone or Android Android
-Dodger Dogs or Nachos Dodgers Dogs
-Micheladas or Margaritas Micheladas
-Snapbacks or Fitted hats Fitted
-Radio broadcast or Television Television 
-Bus trips or Plane trips Plane Trips