Chicago Trip for the NLCS Series 2016
Chicago Trip for the NLCS Series 2016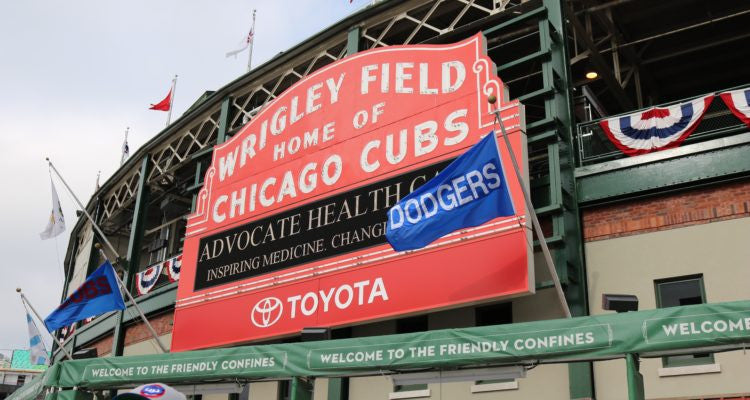 It's been about two weeks since the Dodger's heartbreaking loss in Game 6 to the Cubs in the NLCS. For many Dodger fans like myself, the pain is still very fresh. However, I have finally passed that awful bitter stage and am well on my way to accepting it and appreciating the season for what it was, AMAZING! Despite not going to the WS, our boys in blue still managed to get further than they have in recent years. I truly believe we have a solid team and I am very confident that 2017 will be our year!
[Que in Journey's "Don't Stop Believing"]
With that said, I can finally write about my experience of attending the first two games of the series in Chicago. Think of it as a prequel or slight introduction as to what to expect for those of you attending Pantone 294's Chicago Trip in April 2017.
Let's backtrack a little to the night the Dodgers sealed the deal with the Nationals in Game 5 of the NLDS.
Photo by: Jon Soohoo
Hyped from the win, it was only natural to joke with a few other Pantone 294 members about actually going to Chicago. But when I found myself booking flights at 1:30am, I knew the joke had turned reality. There's nothing I like more than a spur of the moment trip. The kind where nothing is planned, you have no idea where you're going to stay or if you'll even get tickets to the game but you book your flight anyways and leave the same night on a red eye. Those are the moments I live for and that is exactly how I found myself in Chicago for Game 1 & 2 of the NLCS.
Spare of the Moment Packing Tips:
Check the weather! A simple weather check will save you a lot of time and energy in the packing department. The could mean all the difference between freezing your butt off or sweating your balls off. You get my point right?
Wallet Check! Make sure you have all the necessary items such as money, i.d, credit cards, etc.
Carry on luggage is the way to go! Leave your bulky check in luggage at home. It will save you time and money on your short trip.
TSA Approved Items are a must! I can not tell you how much of an inconvenience it is when TSA finds an item in your carry on that is against regulation. Save yourself the time and hassle it takes for them to search, making a mess of your neatly organized bag, just to find a spray deodorant that is .3 ounces over the size limit. I'm not sure how .3 ounces over the limit puts anyone at risk but hey, I don't make the rules.
LOS ANGELES, CA – CHICAGO, IL
Our flight departed from LAX with a small layover in Detroit, MI. We took the opportunity to freshen up and have an early morning breakfast at Max and Erma's located inside the Detroit Metro Airport. Food was good, very similar to what you can get at Denny's.
After breakfast it was right back on the plane.
Huge thank you to Delta Airlines for providing the absolute best biscotti cookies I've ever tasted! If you ever fly Delta, make sure to try them!
HYATT REGENCY O'HARE HOTEL
Photo Courtesy of Google Images
9300 Bryn Mawr Avenue
Rosemont, Illinois 60018
1 (847) 696-1234
 Fun Facts:
Complimentary shuttle service to and from the airport.
Very modern hotel with decent sized guest rooms and plush Grand Beds.
24 Hour Gym
Pet Friendly
Bar and Lounge
Two Restaurants
Easy access to downtown Chicago and the O'Hare airport
One of the best things I enjoyed about this hotel was their wonderful hospitality and being granted early check in. Score!
HELLO CHICAGO! 
RIDING THE "L" TRAINS:
Fun Facts: 
The "L" is short for the word elevated.
140 stops across the city and nearby suburbs.
The trains are color coordinated with their routes and stops.
Purchase an all day pass to save money if you plan on exploring the city and taking the train more than twice.
We found that riding the trains here in Chicago were far easier than riding them in New York. Here, there are many signs, maps and color guides to show you your way!
CLOUD GATE :
Fun Facts:
Nicknamed "The Bean" for its shape.
2006 Sculpture by Anish Kapoor located at the AT&T Plaza at Millenium Park.
The sculpture's design was inspired by liquid mercury.
Made up of 168 stainless steel plates that were welded together.
Weighs about 110 tons.
Amazing, yet slightly distorted views of the city's skyline.
Perfect photo opportunity for all you selfie takers.
WRIGLEYVILLE :
Out of all the stadiums we've visited in the past, nothing comes close to what we experienced here in Wrigleyville.
What is Wrigleyville? 
Wrigleyville is a highly developed area surrounding the stadium. It has endless bars,  restaurants, vendors selling sports merchandise, and in my opinion, is the ultimate fan playground! From the moment you get there, you feel the overwhelming spirit of the Cubs community. It can be a little intimidating at first, especially if you're there supporting an opposing team, but you quickly get over it once the fun banter begins and you start to make friends with the Cubbie fans. One thing I will always appreciate is a passionate and loyal fan base and that's exactly what the Cubs have.
Outdoor Vendor Shops in Wriggleyville
Cubs fans stand outside the stadium with their gloves waiting to catch some balls.
Got to love their spirit! Ps, I didn't pay the two dollars for a picture.
These shirts were everywhere. I guess it's safe to assume the Curse of the Goat is over.
MURPHY'S BLEACHERS 
3655 N Sheffield Ave
Chicago, IL 60613
Fun Facts: 
Across the street from Wrigley Field.
Great for groups.
Definitely a Cubs Bar but they still are pretty welcoming to opposing team fans.
Awesome selection of beer and specialty drinks.
Decorated in sports memorabilia.
This awesome sports pub was one of our favorites to visit in Wrigleyville. It's absolutely perfect for pregaming or post game celebrations and would have been the perfect place to watch the game had we not gotten tickets.
WRIGLEY FIELD
1060 W Addison St
Chicago, IL 60613
Fun Facts: 
 Wrigley Field was the first ballpark to allow fans to keep the foul balls.
The last time they won a World Series was in 1908.
Wrigley was also home to the Chicago Bears for a while.
Second oldest ballpark in MLB.
In 1932, Babe Ruth's famous "Called Shot" happened in Wrigley Field.
DODGERS VS CUBS GAME 1
Remember when I said we had no idea if we would get tickets to the game? Well, we lucked out and managed to score some pretty awesome seats from one of our contacts. Huge thank you by the way!
This game was a little different than any game I had ever attended. Pantone 294 normally rolls deep with about 500+ Dodger fans and because of that, you never feel out numbered or out of place. However, being that it was just a few of us scattered around the stadium, the experience was quite different this time.
How else was the experience different?
Cubs fans are loud!
They never sit down, like ever!
The banter might get a little rocky, yet it's all still done in good fun.
They have this "Go Cubs Go" song that they're constantly playing/singing  before, during and after the game. It's slightly annoying yet catchy.
We were constantly being tricked. They wear the Dodger Blue (Pantone 294) so when you thought you may had found a fellow dodger fan in the sea of Cubbies, you were dead wrong!
I got locked in the women's restroom stall for five minutes. Yes, even the stalls can tell you're an outsider. They might want to consider checking that out by the way…
Beware of flying Cubs fans. One flew head first right between us after the Cubs scored. Judging by the giant red spot on his head, it was unplanned.
And still, despite everything listed above and the Cubs beating the Dodgers 8-4 in game one, it was still freaking amazing.
What's it like to experience a Cubs win in Wriggleyville?
Pic not mine but shows an aerial view of the celebration.
A Cubs win in Wrigleyville is like nothing I've ever seen or experienced before. Picture everyone walking out, singing that "Go Cubs Go" song. They fill the streets, taking over the bars, restaurants, sidewalks and any open space surrounding the stadium. They are filled with life, enthusiasm and a camaraderie so big that you feel it in the air. Their smiles are as contagious as their laughter and cheers making it hard not to get sucked up in the celebration. The police presence is strong but you get the sense that they are celebrating too as they trot up and down the streets on their horses. It's like a giant block party for the rest of the night and everyone is invited, including opposing fans.
DODGERS VS CUBS GAME 2
The prior nights loss had already been forgotten by the start of Game Two. We were lucky enough to get tickets in a more dodger friendly section than the day before, making a few new friends in the process. Hey George!
Slightly less intimidated by the Cubs fans, we yelled and cheered as loud as we could hoping that the Dodger players would hear us. Kershaw pitched an amazing game and though we may have only scored one run to win, it was a win well earned!
What was different about Game Two?
Being surrounded by more Dodger fans during the 2nd game made all the difference. 20 voices are definitely louder than two! And when we go back to Chicago in April, 600+ will be better than 20!
Kershaw was on fire!
There were no flying Cubbies fans and I managed to avoid getting locked in any bathroom stalls.
It felt good to get the win. As loud as the Cubs fans were the night before, it meant everything to shut them up for a bit, respectfully speaking of course.
What is it like to experience a Cubs loss (Dodgers Win) in Wriggleyville?
While the streets may have not been filled like the prior night with cheering and singing Cubs fans, the bars and restaurants were still packed and the celebratory vibe was very much still alive.  The friendly banter went on throughout the night as we encountered some pretty awesome Cubs fans who joked and laughed with us for a bit. We even seen more Dodgers fans inside the bar and suddenly we were no longer strangers but friends celebrating one common love for our boys in blue. It's amazing how a team can bring people from all over together, people whom you probably would have never met otherwise.
What's Next?
Aside from Fanfest and Spring Training, Pantone 294 will be making a pretty big appearance at the Chicago Cubs home opener, kicking off their season of amazing trips and experiences. I've already put down a deposit to secure my spot, have you? Don't miss out or you'll surely regret it!
Until next time my friends!
Stay tuned for more Pantone 294 ultimate fan experiences!