Alanna Rizzo: A Role Model
Alanna Rizzo: A Role Model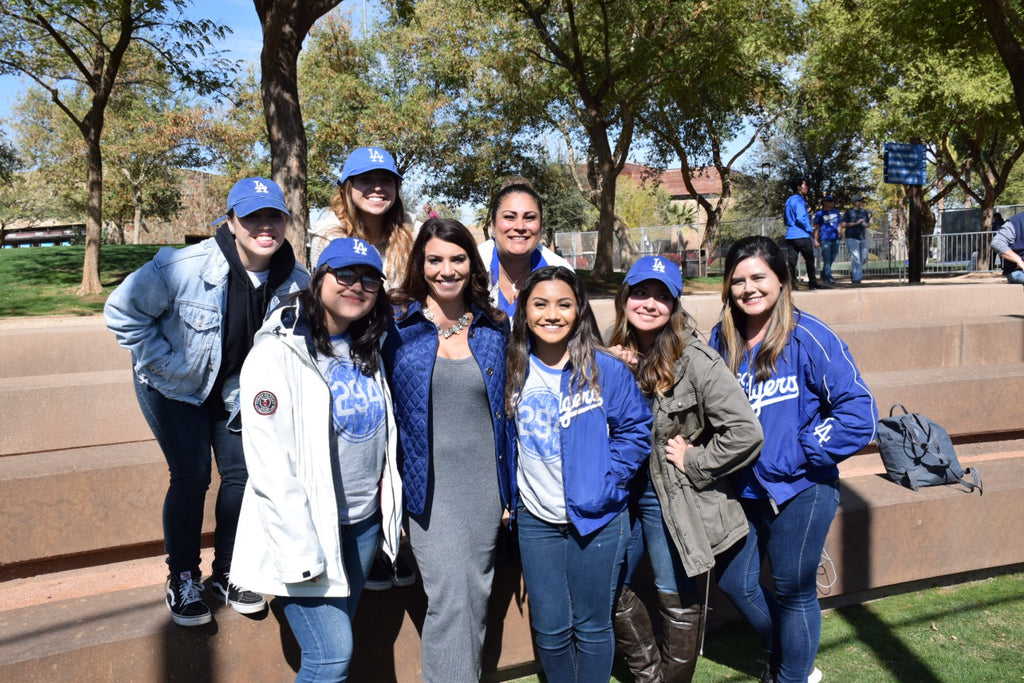 It's no secret that baseball is a male dominant industry, not because they are more talented or more knowledgable than women, but because very few women have been able to successfully break down the gender stereotypes set before them, and that is not due to their lack of trying or talent. This leaves many young girls wanting to go into the sports industry with little to no women to look up to. So what's a girl to do?
As a little girl, I encountered many obstacles wanting to play baseball on an all boys little league team from the players, coaches and sexist individuals telling me that my place was on a softball team. As a teenager, there was less opportunity for me to play on coed teams because in society's eyes, my place was suppose to be on the sideline cheering on the boys. And as an adult, my knowledge of sports is constantly questioned because what does a girl really know about sports anyways right?  Thank goodness I had a strong Latina mother who raised me to go against gender stereotypes and always encouraged me to be me. But what about those little girls wanting to go into the sports industry who don't have a strong female role model to look up to?  Who do they turn to for guidance?
Luckily, MLB baseball has a strong female role model for all girls to look up to, no matter what team you are rooting for, and her name is Alanna Rizzo, sports reporter for the LA Dodgers on SportsNet LA.
Poised and knowledgeable, she reports and holds her own like no other, including her male counterparts. She carries herself with respect, not faltering to the stereotypes of what a female reporter is suppose to be like, remaining true to herself and her passion. Her relationships with the staff, players and fans is undeniably impactful and and that is why when the opportunity presented itself to possibly have her speak to the young ladies of Pantone 294, who are aspiring to be sports journalists, I jumped on it. 
On February 21st, during a team outing to Spring Training at Camelback Ranch, Alanna took the time to sit down with us and share her story. This is what she had to say: 
Alanna: Her Career
Originally from Colorado, Alanna pursued a degree in International Business. She then worked in sales and marketing for 5 years until 2001 when she began to question herself if there was anything else that she would rather be doing. Being that sports was her passion, she decided to go back to school and pursue her Masters Degree in Sports Journalism. 
"There are 200 television markets, New York is number one and Los Angeles is number two... I started in market 142, way at the bottom, in Wichita Falls, TX. I started as a weekend sports reporter and weekday sports anchor but in those really tiny markets you have to do everything. You have to write all your own stuff, shoot your own stuff, edit everything, you have to report, you have to anchor, you have to do it all... I was there for nine months and it was awful but it's important, it's important to be able to go to those small markets and pay your dues. I was making $15,800 a year, and I'm talking 2004, we're not talking like 1910, it was literally below poverty. But it is important to be able to go to those small markets and make mistakes because people are a lot more forgiving in those small markets."
"I went from there to Madison, Wisconsin and that was market 85 and I actually had just accepted a job from Kansas City but then they flew me out to Madison and I liked it a lot. It felt like a better fit for me. So I was the weekend sports anchor, weekday sports reporter at CBS in Madison. I don't know if you have ever been to Madison but it is a phenomenal college town. Very intelligent, knowledgeable, fun, sports fans; it's like a huge, fun community. I was there for three years and I covered everything, the University of Wisconsin, the Packers, the Badgers, the Bucks, the Brewers... And then from there I got what I thought at the time would be the job that I would finish my life with because I got to go home. My goal had always been to go back to Colorado, that's where I'm from so I went back to Fox Sports, now it's AT&T SportsNet, but at the time it was Fox SportsNet Rocky Mountain. That's how I got into baseball. I really didn't know a ton about baseball when I started. I really didn't even know what a sinker ball guy was and the ace of that staff was Aron Cook and he was a sinker ball pitcher and I was like I better hurry up and learn what this is... I covered the Rockies for five seasons. Once we get through the month of October I will now have covered the Dodgers longer than I have covered the Rockies and that's insane to me."
"Then MLB Network called me. I auditioned for that and I was there for two years."
"The Dodgers- I was covering them in the playoffs in 2012 and 2013, and Lon Rosen, who is now my boss, approached me when I was covering them and said we're launching a network would you like to come here... I almost said no...I almost didn't take the job thinking I didn't want to live in LA but I am so glad I did because I LOVE LA... And now I'm almost about to start may fifth season with the Dodgers."
"The days are long but the years fly and it's hard to believe what a ride this has been. These guys are so good and they've won the division five straight years. The World Series last year was insanity... It could have gone either way."
Alanna's Advice To Women Trying To Get Into The Industry
"It's a process- Not something you get to do overnight.  It's an incredibly hard industry to get into and it's even harder to stay. It's never too late to do it and never let anybody tell you you can't. You must be willing to take the risk. You have to have thick skin, especially as a woman in this industry. You have to very methodically prove them wrong. One thing I've learned over the course of time is don't be afraid to ask questions. You also have to be willing to make a lot of sacrifices. You have to be willing to  take the risk, bet on yourself, not make any money, live in a place that sucks, move, be away from your family, be away from your friends, give up your social life. You really have to want it because a lot of people want to do what we do but not a lot of people are willing to put in the time and the effort into what it takes to do what we do."
Alanna: Staying in LA
"I love it here. Andrew Friedman, he's the president of our baseball operations, he always says that there are no hard or fast rules. And one thing that I've learned is I can't say I'm going to be be in LA forever or no, I'm ready to leave in two years. You just don't know.  You don't know what life is going to throw at you.  I will say this, I love covering this team, I love living where I live and I will be here until they don't need me or unless something unforeseeable happens... I'm here for the foreseeable future. That doesn't mean I'll be here forever. I have a great job. It's pretty hard to beat LA."
Alanna: Greatest Part Of The Job
"There's a couple of things. The opportunity to be privy to being around an organization of this caliber on a day to day basis. There's 30 major league teams and the way that these guys go about their business, you'd be impressed to find another organization that has as much history, obviously the Yankees with 27 World Series Championships, but the way that the Dodgers go about their business is pretty special. The fact that I get a national league ring is pretty neat because I'm a Dodger employee. There's a difference between being a network employee and a Dodger employee, I've been both- you are part of a family here. The opportunities that this industry has afforded me. I get to travel all over the country and work pays for it. The Dodgers are such a first class organization that when we went to the World Series they let everyone bring somebody. I brought my mom to the World Series, that's pretty cool. Plus I get to cover baseball everyday. " 
Alanna: National vs In House Reporting
I was on a national network- I was with the MLB network for two years, so I know what the national scene is like and I know what THIS is like and I actually missed being in the field because when you're at a network level like that, my opinion, you're very far removed from what's actually going on. We'll be in the clubhouse and MLB network is on or ESPN is on an they're talking about the Dodgers and I'm like that's not even close to what's happening because they're not there with them every single day. So I missed that. I honestly missed the sounds of the cleats when they come out to the concrete. I missed the sound of the bats hitting the ball. I missed this! There's good and bad in both, me being at the national level, the production value is incredible, the research department is amazing. I mean, you have a lot of high quality people with a lot of experience and you just don't have that many resources on a regional network level as you do at like MLB or ESPN. I did some amazing things at MLB. I hosted the red carpet show for the All Star game win 42nd Street, NY. I mean that literally was the one of the highlights of my career BUT I missed being here. It's a balance like anything,"
Alanna: Greatest Memory
 "That day (the day she hosted the red carped show for the All Star Game in NY) and the The World Series. Just covering a World Series with a team that legitimately had a shot... I mean, you hear about all these guys when they grow up and it's the bottom of the 9th, 2 outs, a 3-2 count and they're gonna win the World Series and that's what they think about when they're little, that's what they want to do... And then I think, they actually almost did it, and it's so difficult. There's guys who play the game for 15-16 years and never get to the post season let alone get to the World Series and for them to get there, just the opportunity is incredible and they literally almost won it. If they didn't't have such a crap Game 7 they would have won it. Before anything, these guys are human beings and you don't see the amount of work that they put into to get to where they've gotten and to see them lose- your heart shatters for them because you know how difficult it is."
Alanna: Players and Interviews
 "Anyone that's willing to give me an interview is my favorite interview."
"JT has a great story. We started at the exact same time. We came here both in 2014 and he was a non roster invitee to Spring because the Mets cut him. He made the team- he killed himself to make the team. He was suppose to be a platoon player, a bench player, and they signed him to a 4 year, 64 million dollar deal to be there everyday."
"Kenley was a catcher, you know Kershaw's first save Kenley caught."
"Puigs growth... he's still a maniac... but his growth has been interesting to watch for sure."
"These guys are humans first, before they're baseball players, but they're held at such a high level that people don't remember they're people."
Alanna: What She Would Tell Her Younger Self"
"Start earlier! You can't really have regrets because everything that you do kinda makes you who you are at this point and I wouldn't be the same person if I would have gone left instead of right. I think I would have done things differently in my personal life more than my professional life because I think you can really get into a trap of go, go, go and getting to the next level and the next and trying to be better and better and in the meantime, your life is over and you're like where did it go? You can be married to your job way more than you can be married to your spouse."
Alanna: Steps To Take
"The hardest thing is getting your first job. I must have applied to 100 places before I got a job. It's a lot of no's before you get a yes. It's a lot of rejection and a lot of it can do nothing with how talented you are. You can do all the right things and say all the right things and that still might not make a difference but you have to keep at it. It's not for everybody, but that's ok because when you finally get here then you're like I freakin earned it!
Alanna: Words Of Advice To The Ladies
"I love to see young women pursuing their dreams. Nobody can tell you guys you can't do it, only you. If you don't believe it, then you won't. Take a risk and keep at it. Obviously, this goes without saying but I'll say it anyways, your knowledge of the sport has to be there. You have to work twice as hard as your male counterpart."
From the ladies of Pantone 294, thank you Alanna for this unique and wonderful opportunity to sit down and speak with you. 
I'm currently in between two career goals that I have always wanted to do. One of those being a reporter, specifically a sports reporter. I grew up with two older brothers who I looked up too, and being the youngest well, I wanted to do everything that they did. I would play sports with them or at least tried too. Even though I wasn't that great at playing with them, I still liked it and I liked watching them, that's how I got into sports. As I got older I began to take interest in broadcast and journalism. Which is how sports reporting caught my eye. Then I learned about a different type of reporting, the type that brings out the adventurous side of me, who loves to travel, loves to learn about new cultures, loves meeting new people, and making new friends…" -Erika Vazquez
"I think that Alanna is helping pave a path for other aspiring sports reporters and I hope to be able to do that one day too. She shows that with knowledge, hard-work, and passion anything is possible. So, Alanna...thank you for inspiring me and for showing me that anything is possible as long as you're ready to put in the work."- Stephanie Mejia
"I realized then, that I never really had a woman role model besides my mother to look up to. I didn't have someone to look at and say, "I want to be her when I grow up", that's up until I knew about Alanna Rizzo. Alanna Rizzo, in my eyes, the perfect combination of brains and beauty, and the perfect role model. While I know that there is other woman in the sports field of broadcasters and journalists, none compare to my role model. She comes off as strong and knowledgeable woman and inspired me. When I saw Alanna on TV, I knew that whether it be in front of the camera or behind the scenes, that is what I wanted to do. I wanted to gain knowledge in the sport I loved, and simply just share it with others who have the same passion for the Dodgers as I do."- Jaqueline Ramirez
"Dear Ms. Rizzo, First and foremost, I want to say thank you for being such a wonderful role model for all women who have the desire to pursue a career in sports. Not only are you a class act, yet also a genuinely good person, who cares about her work in such a professional way, but most importantly cares about people. I hope to one day see you on the other side of the interview, because I, and I know many other women, are curious to know your journey in this career, and what drove you to pursue it." - Mireya Castaneda
"Ever since graduating last May, I've had a rough time finding my footing in the cut-throat environment of the sports industry. But the mission has remained the same for me:  No matter which sport or what level, I must find a way to go beyond the stats, the records and the championship hardware when sharing the stories of the players with fans." -Nicole Vasquez