Fan Feature: Paul Walshe
Fan Feature: Paul Walshe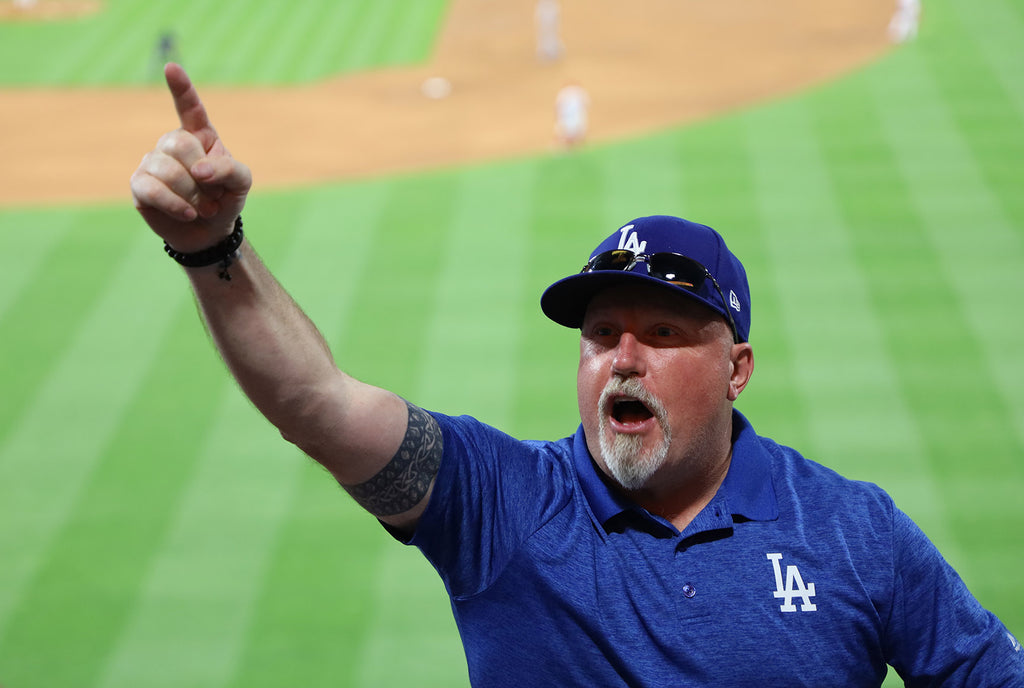 I had the honor of meeting Paul Walshe before the Boston and Philly trip when he dropped by the office to meet the team and pick up all of his tickets and information for the trip. His outgoing personality was easy to pick up on and I knew he was going to make the most of the upcoming Pantone trip to the East Coast. Paul is from Melbourne, Australia and is more than halfway done with his 6 month trip around the United States. He arrived in Phoenix on March 12th, caught some Spring Training games before continuing his adventures through the states. Since then he's traveled to National Parks, seen IndyCar races and made many friends along the way. Paul will continue making the most of his trip until he leaves here on September 7th. Without further ado, get to know more about Paul!
Is there anything Pantone fans should know about you?
I've been a dodger fan my whole life. I started following the dodgers in Australia, through the 80s and 90s.
How you became a Dodger fan?
We didn't have ESPN or MLB.TV in Australia so we didn't watch baseball. We would only get the World Series games and that's how I started watching the Dodgers.  
First memory as a Dodger fan?
Fernando Valenzuela. When I was a young teenager I grew up playing baseball, I was a pitcher myself so I looked up to people like Fernando Valenzuela and Tommy Lasorda.
Favorite Memory as a Dodger fan?
'88 Orel Hershiser. I always had a liking for pitchers.
How did you first hear about Pantone 294?
It would have been through instagram or watching a game on MLB.TV. Seeing them(pantone 294) and wanting to know more about Pantone 294. Connecting with people that went on trips. Before my trip to the US was a reality I said, "One day im going to go one of these trips."
What was your favorite memory on the trip?
The people and Bellingers'  2 home runs at Philly. But it's all about the people. The overwhelming welcoming nature of every single person on the trip, getting beers with them and taking photos. The people and the marches, definitely.
How you describe P294 to someone that doesn't know about it?
It's more than a fan club, it's an opportunity for Dodger fans to get together and share a major baseball experience, it was an amazing experience to meet up with like minded people from all over the place.  
How did you feel going alone?
I was weary. The fact that I was a foreigner and I didn't know anyone. Before I left the airport people were coming up to say hi and introduce themselves to me. The welcoming nature of the people made the trip.
If you could have dinner with any Dodgers player, past or present, who would it be?
Oooo, top 3, Venezuela, Hershiser and Bellinger.
What would you ask him? First I would thank them for the commitment, how good of a player then need to be to get to play major league baseball. I would thank them for what they've given me growing up and into my adult life.. id ask them to tell me about what their life is outside of baseball and what we don't see. A little bit more behind the scenes.
If you could play for the Dodgers what position would you play and why?
I'd want to pitch. I grew up as a pitcher. I want to stand on that mound at Dodger Stadium. Even at 2 am with the lights off, as long as someone has a camera with flash to document it.
If you could shadow a current Dodger for the day, who would it be and why? I'm a huge Bellinger fan, I watched his first game so I want to see how his day to day life is. And I'd like to see what Justin Turner and Clayton Kershaw do with their foundations.
Besides dodger baseball what are your other hobbies?
I have two sons, so spending time with my friends and family. I enjoy camping and  traveling.
How many stadiums have you been to?
By the end of trip it'll 22 stadiums. 
Which has been you fave so far,
I had an amazing experience at Fenway with Pantone. Wrigley was amazing.
What would you say to someone thinking about a Pantone trip?
Absolutely, you have to do It don't hesitate. I made so many friends and everyone was so kind and welcoming. 
What is your favorite baseball movie? Major league. I was also a big fan of the movie Mr. Baseball.
What was the moment that stood out to you the most,
Watching everyone gather for the march to Fenway park, watching the excitement build and everything stopping around us.
What has been the most challenging thing being out here and being away from home. When you're home everything is familiar, I haven't felt homesick on this trip. Which isn't that big of a challenge
Anything else you want the Pantone family to know?
I just want to thank the people that made up the trip.
This or that 
-Pineapple on pizza or not Not Yes
-Dogs or Cats Dogs
-Beaches or Mountains mountains
-Night Games or Day Games Night
-Twitter or Instagram IG
-iPhone or Android iPhone 
-Dodger Dogs or Nachos dodger dogs 
-Micheladas or Margaritas Micheladas
-Snapbacks or Fitted hats Fitted
-Radio broadcast or Television Television 
-Bus Trips or Plane trips bus