Fan Feature Friday: Georgie Aguilar
Fan Feature Friday: Georgie Aguilar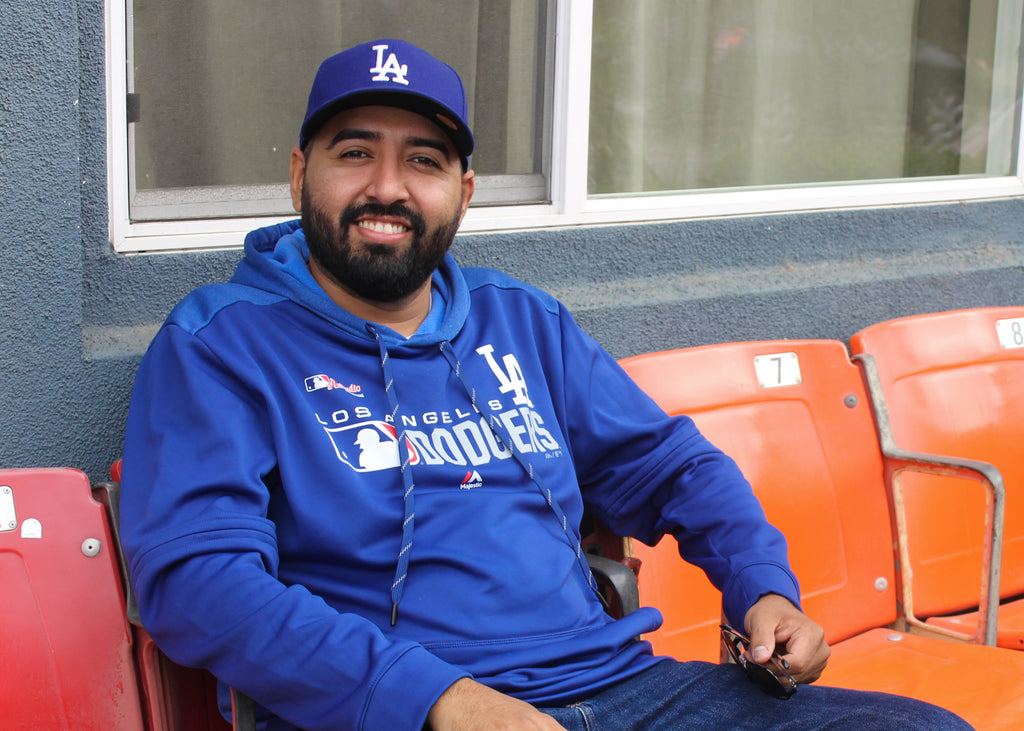 Fontana born and raised, Georgie Aguilar has been a familiar face within the Pantone 294 community for a number of years now. Outgoing and always getting along together with people, scrolling through Georgie's instagram you come across photos of him decked out in blue with other notable Dodger fans.  Working for the Target corporation on weekends you'll more than likely catch him at Chavez Ravine with his 'ride or die' girlfriend Yasmin on a weekday, especially if it's a bobblehead night. Georgie can typically be found going on 3 or 4 trips a year.  Plus this past February he attended the Fancation trip to the bay to see the Lakers take on the Warriors. 
Is there anything Pantone fans should know about you?
I'm super loud, friendly, and outgoing.
How you became a Dodger fan?
I grew up a Dodger fan even though I live in the Inland Empire, my dad would take me to games as a kid. My parents were Dodger fans before I was even born. Most of my family are Dodger fans. 
First memory as a dodger fan?
I would have to say sitting with my whole family in the Left Field Pavilion. I miss tailgating and having fun with my cousins when tailgating was allowed. Of course back then I couldn't drink but we would BBQ and play games.
Favorite Memory as a Dodger fan?
Taking my dad to his first World Series game. It was game 6 of the 2017 World Series, we came out on the jumbotron. Or when we made the last minute trip to Vin Scully's last game in San Francisco. We loved holding up the Thank You Vin signs even though they were in black and orange.
How did you first hear about Pantone 294?
Social media. Instagram.
Have you been on any Pantone trips?
Yeah I've been to quite a few.
Which was your first trip?
Arizona 2015!
If you've been on multiple trips which was your favorite trip?
Seattle, because when Max Muncy hit that home run we went bananas and I spilled my beer. We tied the game to go extra innings. My cousin was there since she lived in Seattle and it was her first Pantone event.
Fave memory on the trips?
When we met Connie and Tencey on a trip to Arizona in 2016.
How you describe P294 to someone that doesn't know about it?
They're a traveling group of Dodger fans. You'll never go to a game by yourself again. You meet a lot of people and you pretty much get to share the love of the Dodgers with other fans.
Do you usually attend alone or attend with friends or family?
I always attend with my girlfriend, Yasmin and sometimes family and friends. I took my parents to Seattle.
If you could have dinner with any Dodgers player, past or present, who would it be?
Jackie Robinson.
What would you ask him?
First things first, I would say thank you for everything he did, accomplished, and how he broke barriers for African Americans and Latinos to play baseball.
What is you favorite thing about Dodger Stadium?
Everything. The view, the colors, the city, the fireworks and the field. The field is perfect. Everything about it is nice.
If you could play for the Dodgers what position would you play and why?
Outfield because then I'll be able to rob the home runs, do diving catches and have the fans around me.
What is your favorite section to sit in Dodger stadium and why?
Left Field Pavilion because growing up we would always sit there. When I took my son to his first game and that was when Andre played left field. I caught a ball from him and it had the Dodgertown stamp on it. I like the view of the field from Left Field Pavilion. I also like top deck because you get to see the whole stadium.
Besides dodger baseball what are your other hobbies?
I watch other sports and I have my fantasy baseball team. I like to cook and BBQ too.
How many stadium have you been to?
9, I've only done the West Coast ones. New York and Baltimore this season are going to be my first East Coast stadiums.
Besides Dodger stadium which is your favorite?

Arizona, because I like the dome stadium.
Which trips are you excited for most during the 2019 season?
New York and Baltimore because it's my birthday month and first East Coast trip.
What would you say to someone thinking about a Pantone trip.
Don't think twice and be ready to be loud and have the experience of a lifetime. It's definitely worth it.
What is your favorite baseball movie?
The Sandlot! I also like Benchwarmers and when I was growing up I liked Angels in the Outfield even though it was a movie about the Angels. I also 42 and The Perfect Game.
This or that
-Pineapple on pizza or not hell yeah, extra pineapple with mushrooms
-Dogs or Cats Turtles
-Beaches or Mountains Mountains 
-Night Games or Day Games Day games
-Twitter or Instagram Instagram
-iPhone or Android iPhone
-Dodger Dogs or Nachos Nachos with jalapeños
-Micheladas or Margaritas Craft beer
-Snapbacks or Fitted hats Fitted
-Radio broadcast or Television Radio
-Bus Trips or Plane trips Bus
Follow Georgie on Instagram to see his latest adventures and to get a glimpse at his bobblehead collection!