Fan Feature Friday: Enrique Herrera
Fan Feature Friday: Enrique Herrera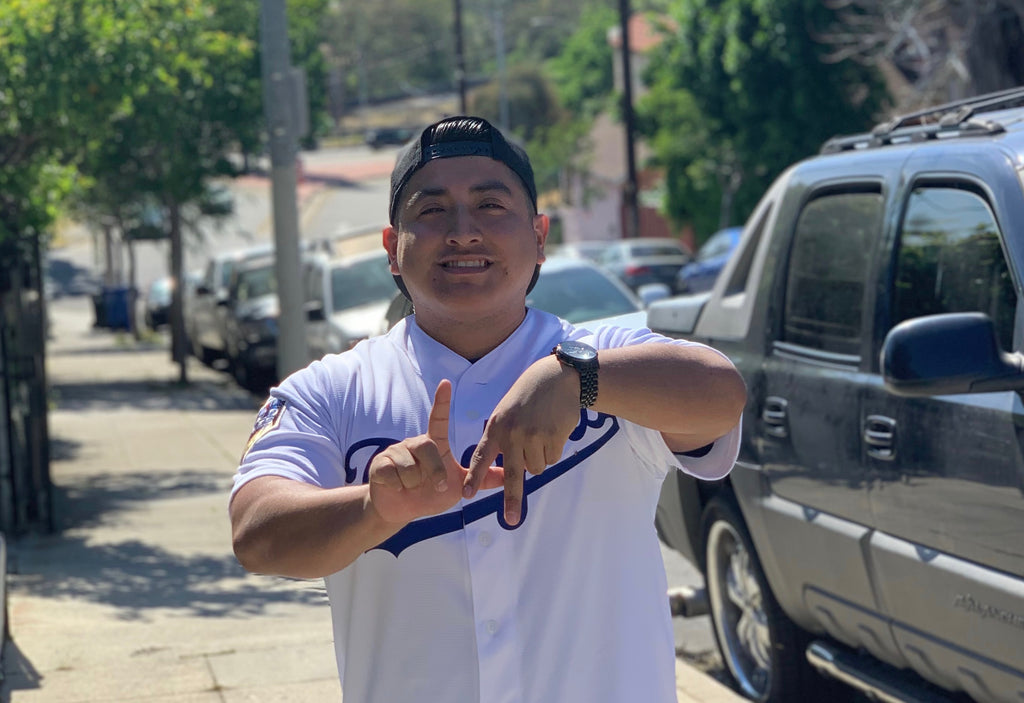 Enrique, much like other SoCal natives has grown up a fan of the Dodgers. He shares his love of the Dodgers with his family, who also attend Pantone trips. Catch Enrique's adventures on his Instagram and don't forget to say hi to him on upcoming trips this season! 
Is there anything Pantone fans should know about you?
I am 27 years old from Stanton CA
How you became a Dodger fan?
The moment I was born. My mom was a huge Dodger fan in the 80's when Fernando came up. It's because of her I'm a huge Dodger fan. 
First memory as a Dodger fan?
First memory as a Dodger fan was when I was eight years old and it was picture day at Dodger Stadium and my mom took a picture of Chan Ho Park up close. 
Favorite Memory as a Dodger fan?
I've had many favorite memories but my all time favorite was last year 2018, game 3 of the World Series. I got to the stadium at 2pm and didn't until the Dodgers walked it off at almost 1am.
How did you first hear about Pantone 294?
I saw it on social media and thought it was so dope that die hard Dodger fans traveled like that.
Have you been on any Pantone trips?
Yes I've been to 4 and will be going to Arizona in August. 
Which was your first trip?
First trip was in 2016 when we went to San Diego. 
If you've been on multiple trips which was your favorite trip?
My favorite was the one earlier this month in San Francisco because I took my whole family and they loved it. 
Favorite memory on the trips?
Favorite memory on the trips was the one my homie Martel and I went to for Spring Training and the Kings game.  
How you describe P294 to someone that doesn't know about it?
Baseball games will never be the same , hands down. Die hard loving Dodger fans who enjoy having a good time. 
Do you usually attend alone or attend with friends or family?
I usually go with my family or friends.  
If you could have dinner with any Dodgers player, past or present, who would it be?
The past Dodger would probably be the Sandy Koufax and the present Dodger would be Kershaw.
What would you ask him? Sandy: When or where did you learn how to throw the curve? Kershaw: When and where did you learn how to throw the curve?
What is you favorite thing about Dodger Stadium? The view from any seat, Top Deck, Pavilion, Reserve, ETC.
If you could play for the Dodgers what position would you play and why?
2B. That was my position growing up. 
What would your walk up song be?
El Jefe de Jefes by Los Tigres Del Norte
What is your favorite section to sit in Dodger stadium and why?
Reserve MVP because they are great seats and you can catch a foul ball.
If you could shadow a current Dodger for the day, who would it be and why? I would shadow Kike Hernandez because he seems like a chill funny dude like me. 
Besides dodger baseball what are your other hobbies?
Spending time with my family and playing baseball with my sisters.
How many stadiums have you been to?
5 baseball stadiums.
Besides Dodger stadium which is your favorite? 
I really like Petco Park.
Which trips are you excited for most during the 2019 season?
I wanted to travel to the East coast trips but saving up for my wedding for next year so just the Arizona trip in August.
What would you say to someone thinking about a Pantone trip?
Do it. Don't think about it. Best decision you'll make. 
What is your favorite baseball movie? The Sandlot.
This or that 
-Pineapple on pizza or not Not Yes
-Dogs or Cats Dogs
-Beaches or Mountains Beaches
-Night Games or Day Games Night
-Twitter or Instagram IG
-iPhone or Android iPhone 
-Dodger Dogs or Nachos Helmet nachos 
-Micheladas or Margaritas Micheladas
-Snapbacks or Fitted hats Fitted
-Radio broadcast or Television Television 
-Bus Trips or Plane trips Plane trips